As a student of film in the early 2000s, I cheered the abandonment of 4:3 television sets in favor of beautiful, widescreen monitors that, FINALLY, displayed the director's TRUE ARTISTIC VISION, rather than some bastardized, pan and scanned, half-assed inflight movie reframe that missed half the action.

I very vividly remember a shot in the original Ghostbusters. (A movie my dad had taped off of HBO one evening and I had spent my childhood and adolescent years slowly wearing away the magnetic imprint of that pirated recording over hundreds of viewings).
It was of Peter, Egon and Ray in the elevator, riding up to kill some ballroom ghosts.
The shot always looked weird to me, but I never could quite put my finger on it until later in life when I realized, "OF COURSE! They had to stretch it out!"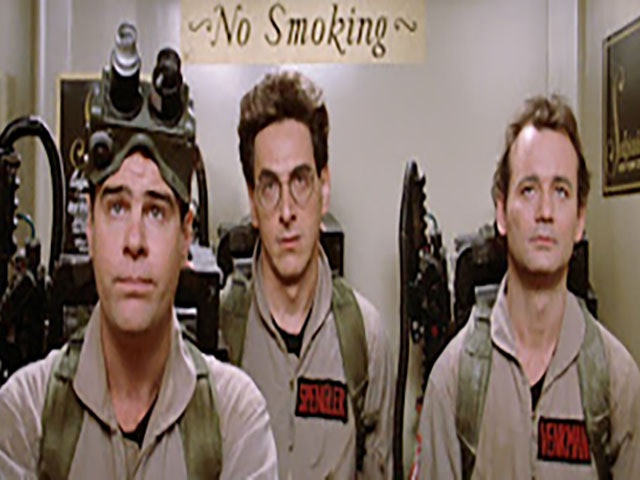 oh yeah that's the stuff
Much to my chagrin, less than a decade after our renaissance era of wide format entertainment took hold, without even enough time to convince our aging grandparents that widescreen movies were in fact showing you MORE of the movie, the advent of mobile phone-driven social media platforms and high speed internet erased all of that forward progress.
If you're like me, you hoped for years that vertical video was purely a fad. A bad dream that we would all wake up from and come to our senses before people started hanging their televisions the wrong way on the wall (spoiler alert: it's too late .)

As a former director of photography, now turned editor, I've experienced both ends of the social media format composition war.
From the cinematographer's side, the expectation that I would compromise my composition by framing a shot for a clearly inferior format is insulting!
And from the editorial side, far too many times I've had to zoom into an extreme closeup only to find I'm left with 2/3rds of an eye in my vertical frame.
Unfortunately, non-widescreen video is here to stay. BUT, with proper planning, I do think it's possible to find an acceptable compromise that gives us the flexibility to create multiple aspect ratio deliverables without degrading the quality or craft of the visuals.
NOTE: I will be mansplaining some terms below in an effort to reach as wide a spectrum of filmmakers as possible, so don't be insulted.
PART 1: FORMAT
Having the necessary number of pixels to produce a true, 1:1 output is ideal for a multitude of reasons. And while we're ever advancing into 6k/8k and beyond territory, for simplicity's sake, let's assume 4k is our largest deliverable format.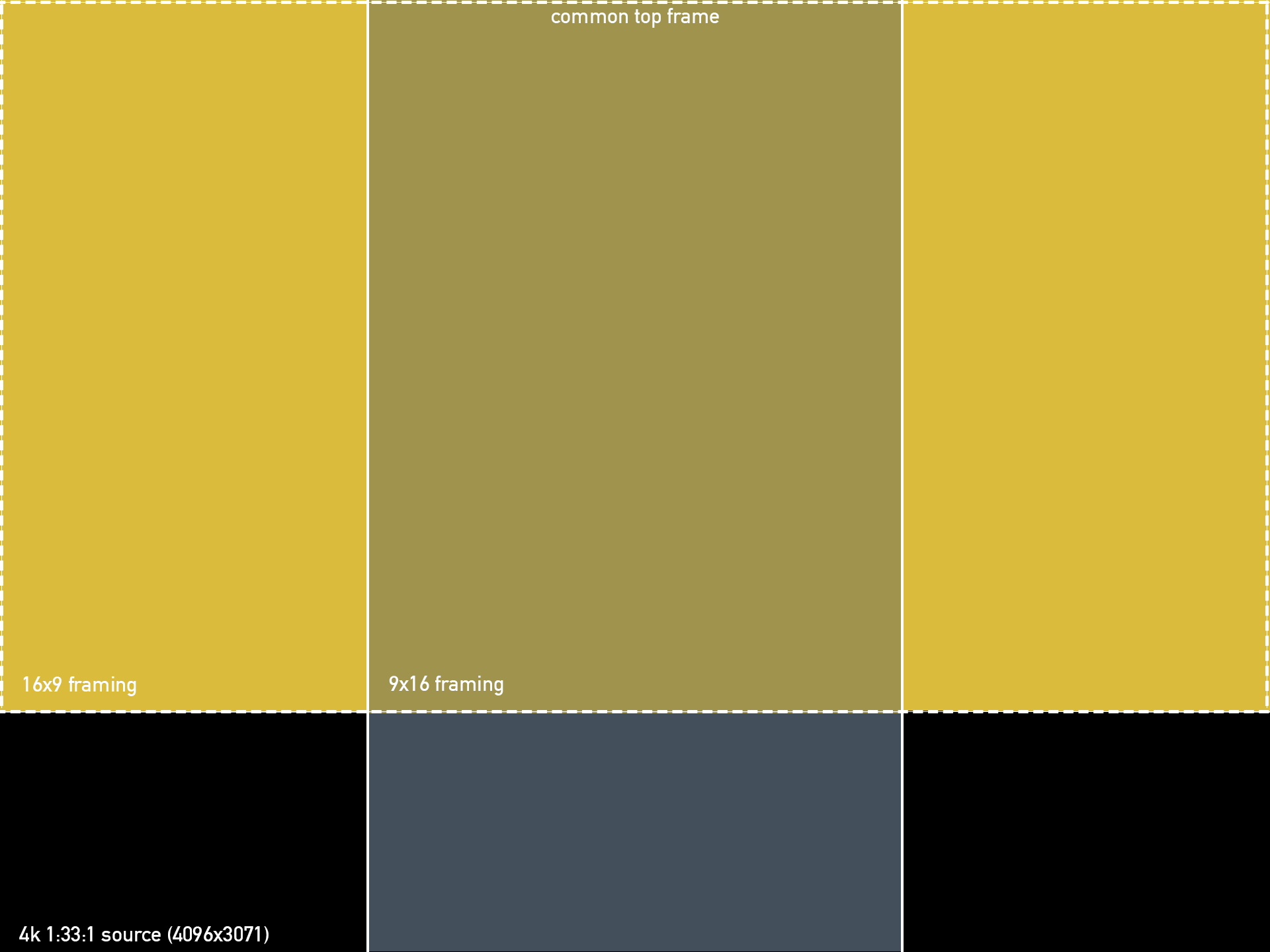 Most 4k cameras have the ability to shoot a 4k, 1:33:1 aspect ratio, generally producing a full frame resolution of 4096x3071. By shooting in this format, you are able to easily extract a 4096x2304 resolution master (4k 1.78:1), as well as a multitude of other aspect ratios for various social media applications.
The key to this strategy is to utilize a "common top frame", wherein your composition considers that all of the various formats will, generally, share the same upper boundary with each other, and divert from there based on their aspect ratio.
To keep it easy, let's just assume our two deliverable formats are traditional 16:9 and Instagram/Facebook Stories obnoxious 9:16 format, as those are two of the wider extremes we see, and everything else falls in the middle and the same basic fundamentals apply.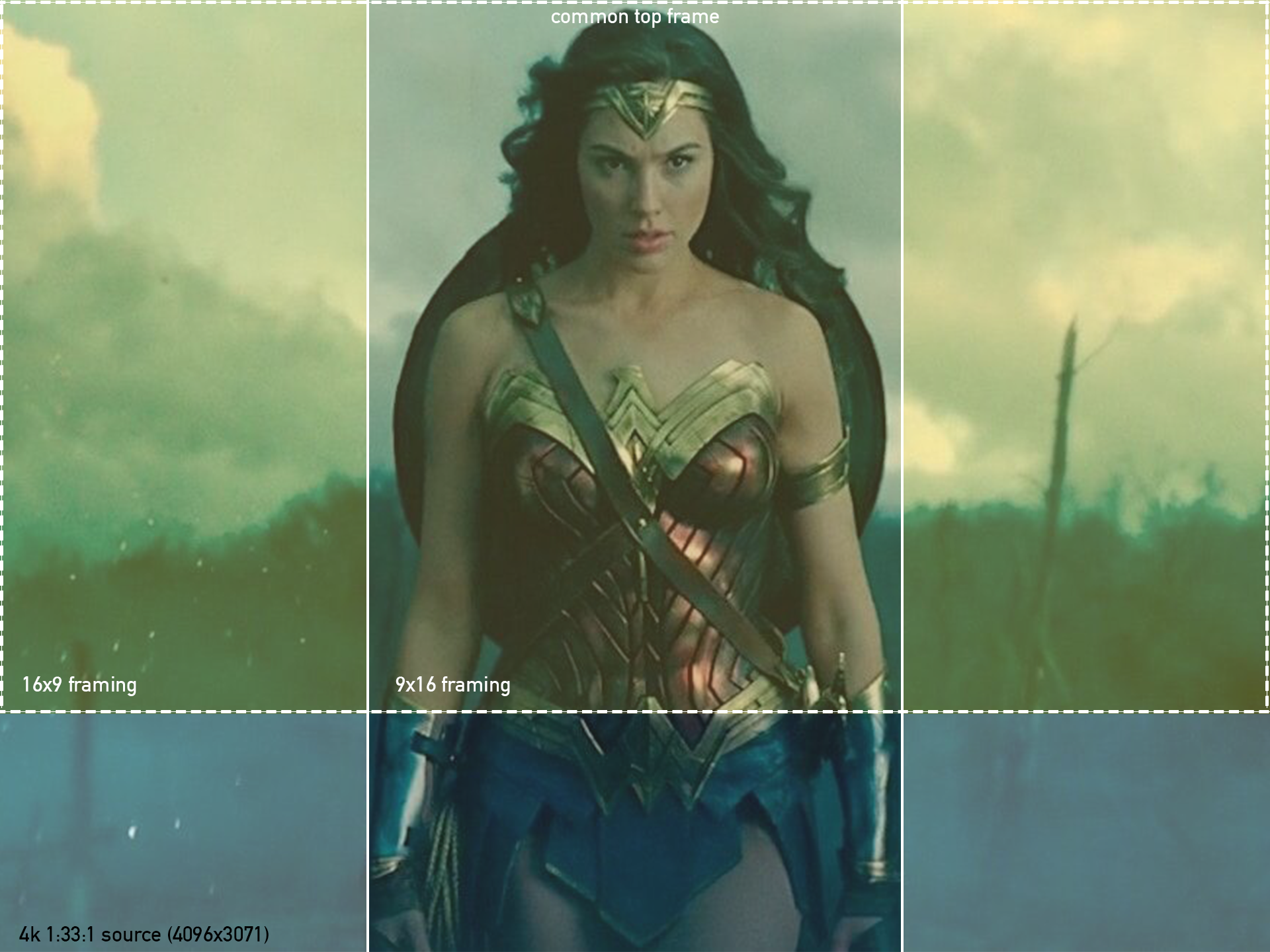 By utilizing those additional 767 pixels as a runout on the bottom of the frame, you get more flexibility in your widescreen composition while still protecting for these vertical formats.
Keep in mind that this common framing doesn't mean you have to keep your subject centered at all times. As long are you remain conscious of the general sizing required to protect for both sizes, the subject can be anywhere on the y-axis you want.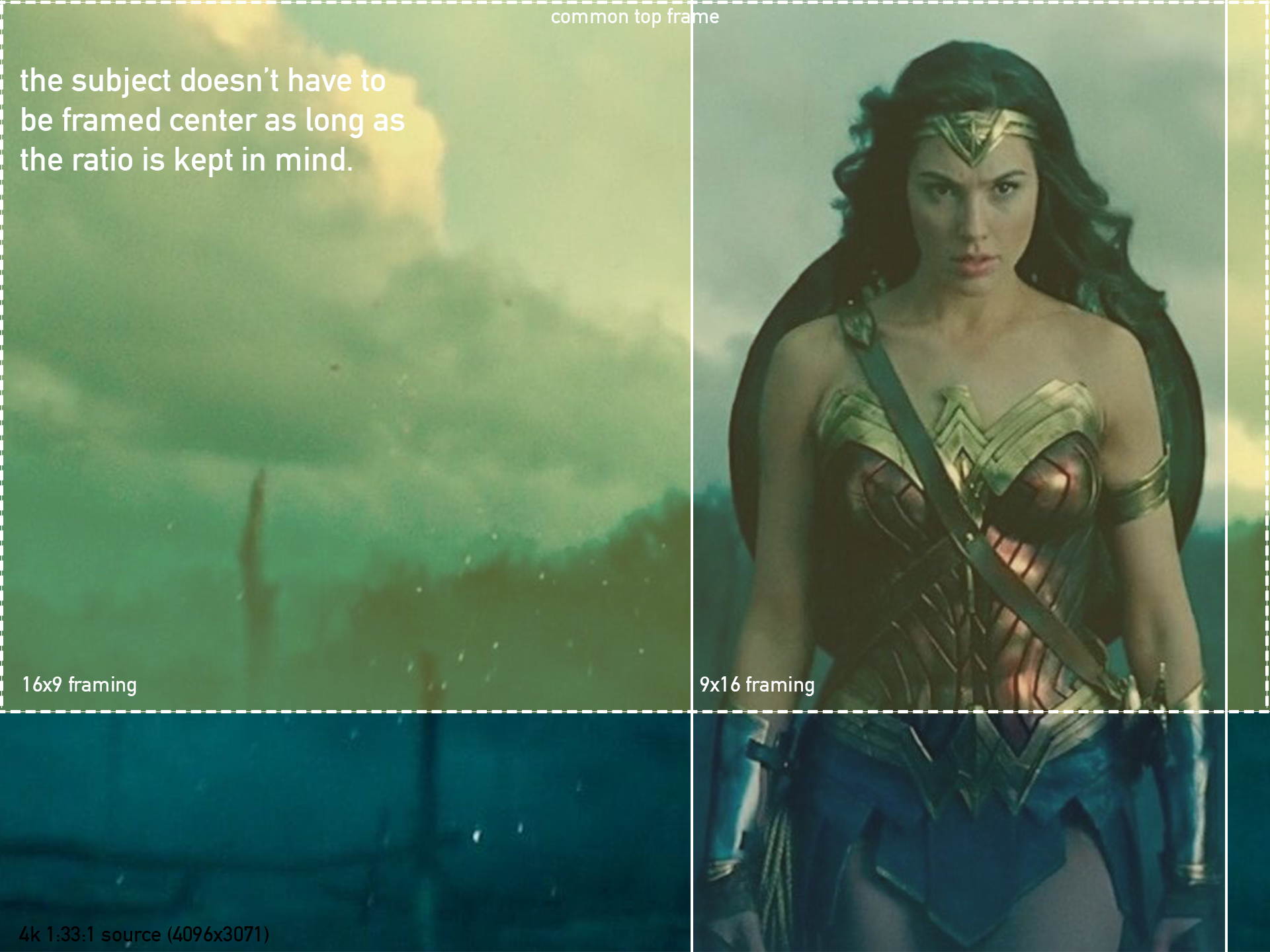 PART 2: THE INEVITABLE ARTISTIC COMPROMISE
There will always be a few inherent compromises necessary when it comes to framing for multiple formats. The most blatant compromises arise when it comes to close up shots.
Because of the wildly varying ratios, it's very difficult to compose a close up shot in a 9x16 frame. Typically anything closer than a tight bust shot becomes an ECU full of face when you frame for vertical.
So unfortunately, it's best to keep your close ups a little bit wider.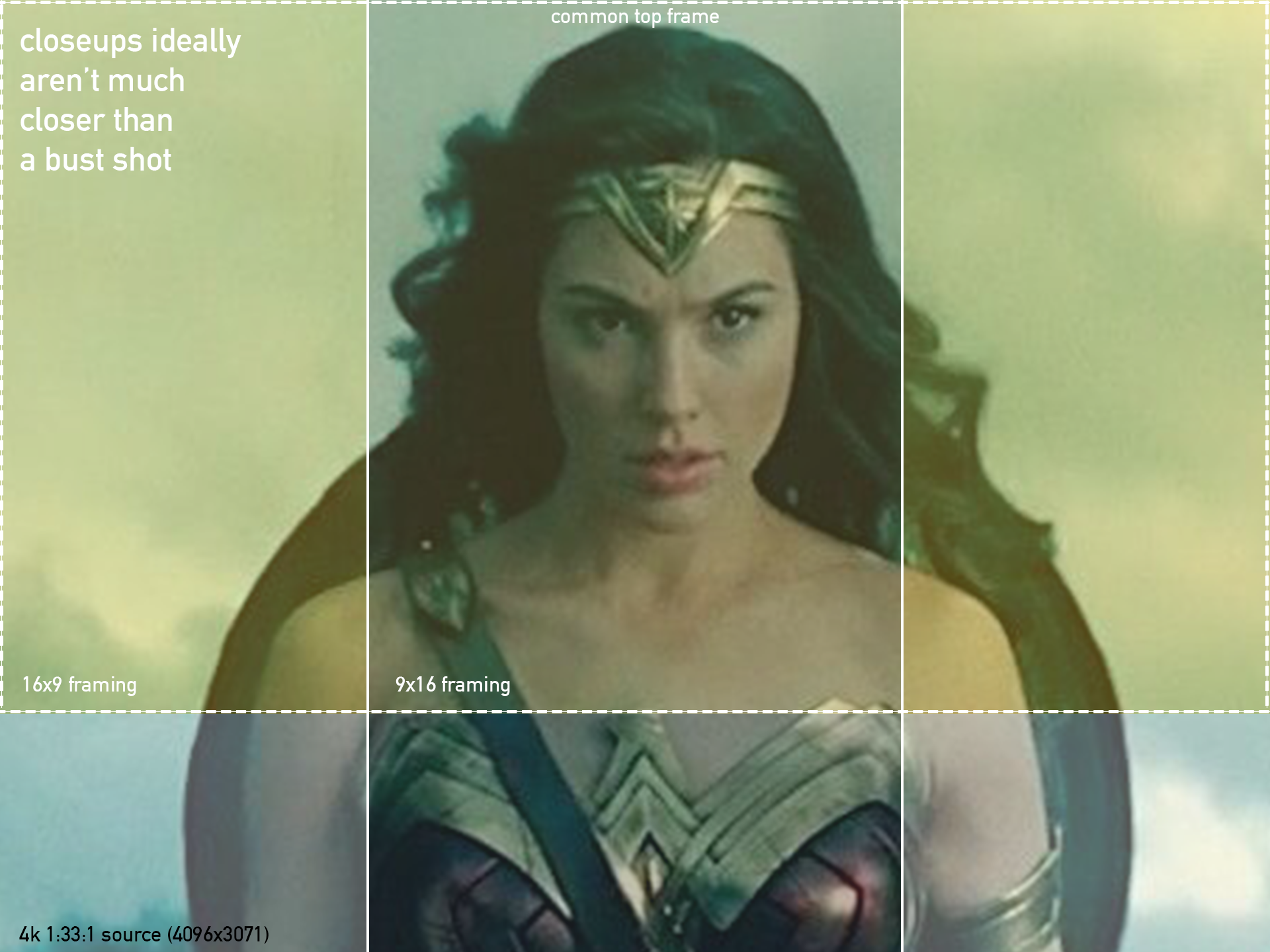 Over the shoulder shots generally don't translate particularly well into vertical frames either, and will generally end up being cropped into close ups anyway, so keep this in mind if there's important action that needs to be captured in the foreground subject.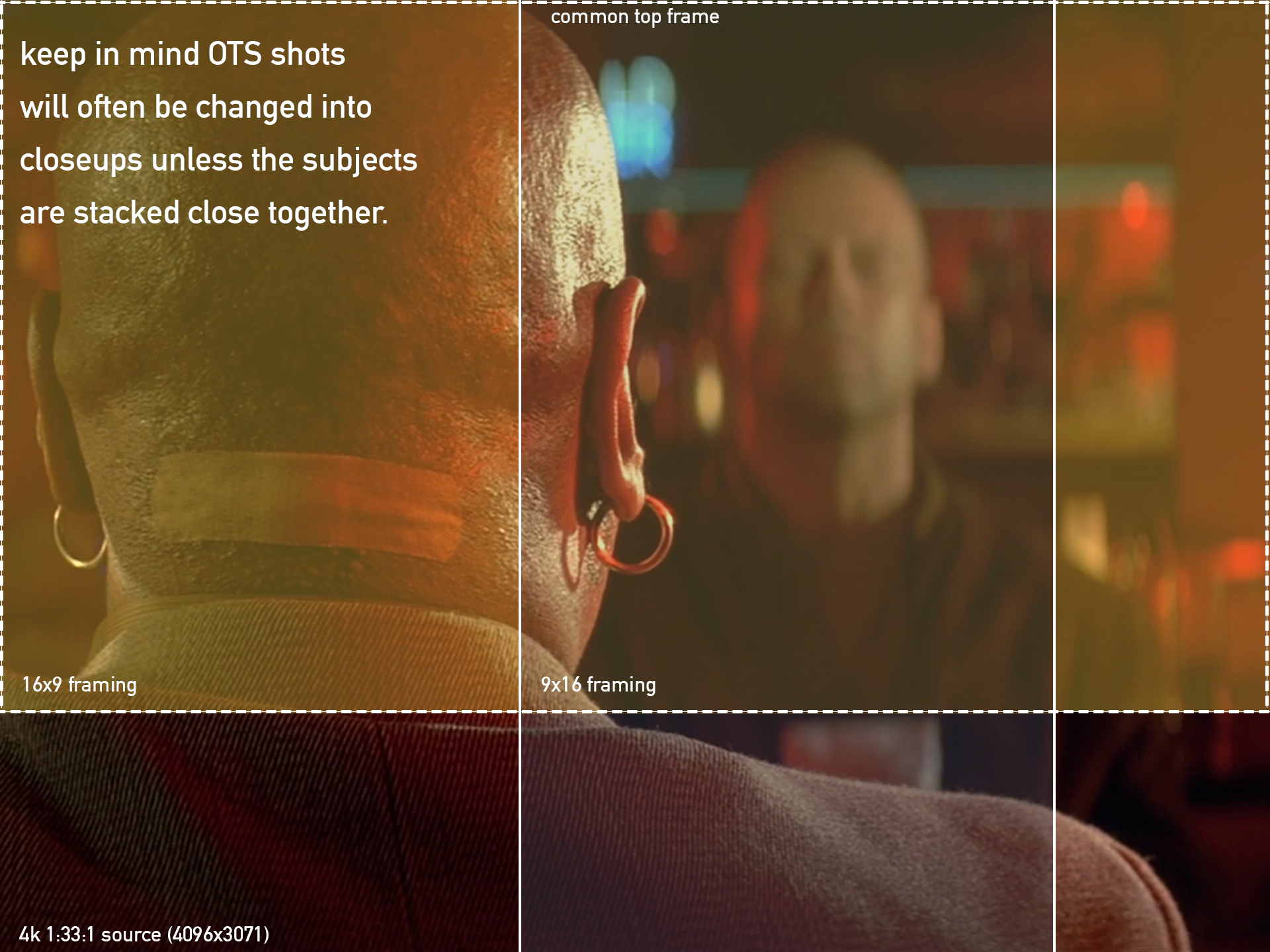 PART 3: OTHER CONSIDERATIONS
If the shoot contains shots of product, consider shooting alternate takes (if production/finishing budget allows) of the product for the vertical formats, as the client is generally the pickiest about these elements and it's very difficult to find a frame that accommodates both aspect ratios.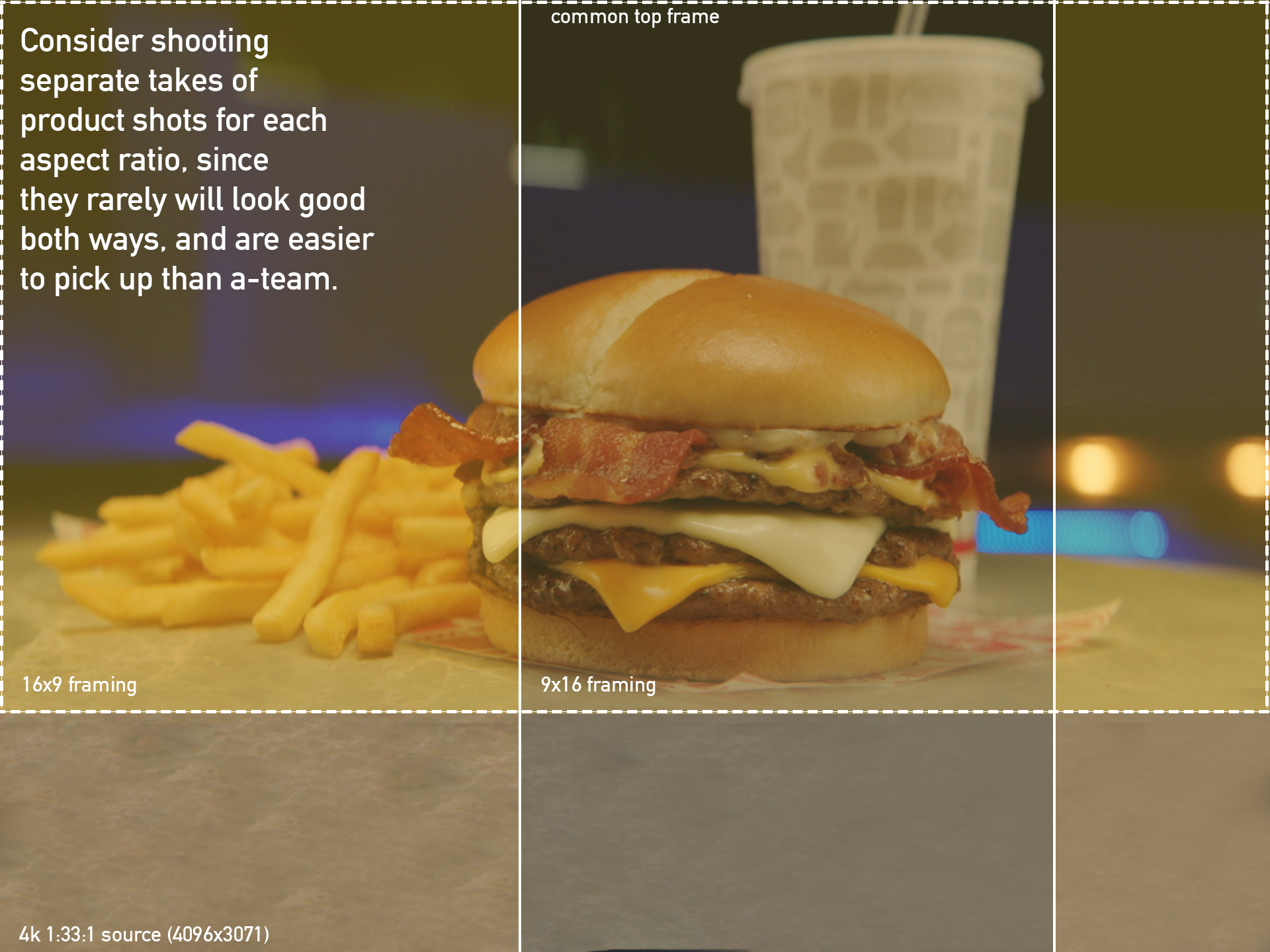 I will add to this post as other situations arise, but this is the general extent of the problems I've run into. With these suggestions, you too can now venture confidently into the exciting world of framing for social media. Congratulations!

-NG